Costello Competition
 The Lyra Society Announces the 5th Annual
Costello Competition for Composition for 2017-2018
The Lyra Society, established in 2004, was created to increase awareness of the harp as a major solo instrument, expand the harp repertoire by commissioning gifted composers, educate young harpists, and enrich the lives of students.  To select the recipient of the Costello Commission, the Lyra Society is hosting a 5th Annual two-stage composition competition. The winner will receive a $1,000.00 cash prize along with a premiere in the Curtis Field Concert Hall. Each of the three finalists will receive publication by *Fatrock Ink Music Publishers. This competition is open to U.S. citizens currently studying at a university.
JUDGES:
Dr. David Ludwig-Dean of Artistic Programs and Composition Faculty, Curtis Institute of Music.

Elizabeth Hainen-Principal Harp, The Philadelphia Orchestra and Director of the Lyra Society.

Michael Djupstrom – Prize winning composer and Musical Studies Faculty, Curtis Institute of Music
FIRST STAGE:
Interested composers please submit the following:
Audio files (mp3) and PDF scores of no more than two 3-5 minute samples of your work. These works should be limited to chamber and solo instrumentation. At least one excerpt with an example of harp writing is strongly encouraged but not required. Submissions should have all identifying information, aside from title, removed to ensure anonymity.
Deadline for submission is October 1st, 2017.
Please see attached guidelines: Costello Competition 2017-2018  for important submission details.
SECOND STAGE:
Three finalists will each write a chamber piece with harp. Composers will be encouraged to work with a harpist from their school in order to field some of the difficult questions of writing for harp. Then, Elizabeth White Clark (Co-director of the competition) will review the piece before the final submission.
*The piece must be 8-10 minutes in duration.
*Deadline for submission will be March 1st, 2018. Winner will be announced by March 15th.
The goal of this competition is to encourage the creation of new music featuring harp that is well-written for the instrument. Composers competing in the second stage will receive additional one-on-one instruction from harpist Elizabeth White Clark to learn how to write more effectively for the harp.   The prize will be awarded at the premiere recital which will be held in the Spring of 2018 at the Curtis Field Concert Hall.
For Questions, please email Elizabeth White Clark at elizabeth.white.clark@gmail.com
Congratulations to the 2017 winner of the 4th Annual Costello Competition, Benjamin Yee-Paulson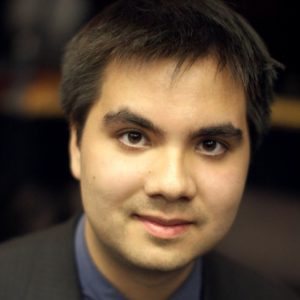 Benjamin Yee-Paulson (b. 1994) is an American composer internationally recognized for his orchestral, chamber, vocal, and piano music. His music has been premiered at many venues including Carnegie Hall, Jordan Hall, Harvard University, Warwick Castle in England, La Schola Cantorum in Paris, and the world opening of Microsoft's flagship store. He is a six-time finalist in the national Morton Gould Young Composer Competition, run by the American Society of Composers, Authors, and Publishers. He twice received the Emerging Composer award from the national Tribeca New Music Festival, and third and fourth place from the Pikes Peak Young Composers national competition. He received second place/runner-up status in the international Future Blend Project competition, and is the winner of the national Lyra Society's Composition Competition.
Yee-Paulson is a student of Kati Agócs. Previous instructions include Justin Dello Joio, Phillip Lasser, David Conte, and Rodney Lister. Master classes include Michael Gandolfi, Samuel Adler, and the late Sir Peter Maxwell Davies. Yee-Paulson attended the European American Musical Alliance in 2013 and 2014, an international composition program in Paris. Yee-Paulson was a member of the New York Youth Symphony's Composition Program, leading to several premieres by NYYS instrumentalists. Other premieres occurred at the 2015 Bard Conductor's Institute, and the 2016 Atlantic Music Festival. His recent commissions are from the Denver Central Presbyterian Chorus, and the 2017 Zodiac Music Festival.
Yee-Paulson has a Bachelors of Music from New York University, where over thirty of his compositions were premiered in concert. He is in New England Conservatory's Masters of Music program.
For more information, visit his website at benyeepaulsonmusic.com