Join us for our 10th Annual Benefit Celebration!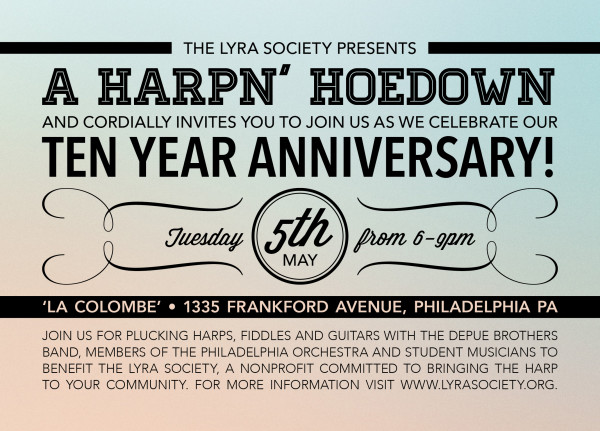 To mark this special milestone we are throwing a lively party featuring a unique melding of bluegrass, classical, and rock genres. Enjoy the unprecedented combination of the DePue Brothers Band, members of the Philadelphia Orchestra, Elizabeth Hainen, students from All-City Orchestra and our own GLISSANDO! Harp program students. You won't want to miss this exciting array of performers and musical styles in a fun atmosphere hosted by CBS Philly's own Pat Ciarrocchi.
La Colombe is located at 1335 Frankford Ave.
Philadelphia, PA 19125.
Valet parking will be available.
Click here for driving and public transport directions to La Colombe
Learn About the Lyra Society
The Lyra Society, established in 2004, was created to increase awareness of the harp as a major solo instrument, expand the harp repertoire by commissioning gifted composers, educate young harpists, and enrich the lives of students.

The Philadelphia Schools Harp Program
We believe the harp is a wonderful vehicle for inspiring students so that music will enrich them for the rest of their lives. The Lyra Society has a vital interest in education as a means for bringing the harp closer to children and young adults. Through your support, we are thrilled to offer in-school presentations—without charge to students—to acquaint and excite young people with the harp. Your generosity also enables us to repair and maintain school-owned harps and to provide students with professional instruction.
Learn more about GLISSANDO!

The Costello & Phillips Commissioning Awards
Edna Phillips and Marilyn Costello, former Harpists of The Philadelphia Orchestra, contributed to the establishment of The Lyra Society. Ms. Phillips was responsible for commissioning over 50 works featuring harp and Ms. Costello also championed new repertoire. These awards are a living memorial to these women who did so much for the harp.

Please contact us on how you can sponsor an individual harpist or if you want to make a gift to the Lyra Society to defray our organization's expenses.

The Lyra Society is a 501 (c)(3) nonprofit organization. All donations are tax deductible as allowed by law

Your generosity enables us to commission new works by world-renowned composers and young composers at the start of their careers. To implement these Awards, the Lyra Society collaborates with prominent non-profit institutions including the Philadelphia Chamber Music Society and Curtis Institute of Music. Commissions feature the harp in solo, chamber and concerto compositions. Both professionals and outstanding students perform these new works.

The Saratoga Harp Colony
The Saratoga Harp Colony, an advanced training ground for the world's next generation of professional harpists, takes place each August in Saratoga Springs, NY, summer home of The Philadelphia Orchestra. Students have the invaluable opportunity to receive private lessons, coaching and tutorials with members of the Orchestra, and to attend concerts at the Saratoga Performing Arts Center. Your support provides vital funds for scholarships and facility expenses — all to provide promising young harpists with a special place of inspiration to enrich their musical talent. Learn more about the Saratoga Harp Colony

The Saratoga Harp Colony is a program of the Lyra Society and relies completely on the sponsorship and generosity of our patrons. We need your support to provide funds for scholarships and facility expenses–to provide young, promising harpists a place of inspiration to enrich their musical talent.