News
Lyra Society Receives a Major Gift from Gerry Lenfest
"We are incredibly grateful to Mr. Lenfest for acknowledging our successful work in the Philadelphia Schools. With his gift we were able to purchase 15 new student harps as well as establish a harp classroom program at Philadelphia High School for Girls commencing this January 2016. These new instruments will join the two concert grand harps previously placed there by the Lyra Society, making it achievable for any
student at Girls' High to play the harp." – Elizabeth Hainen, Director. A special thank you to Joe Kluger, WolfBrown Principal, for developing this proposal.
GLISSANDO Program to be in Central and CAPA High Schools for 2016!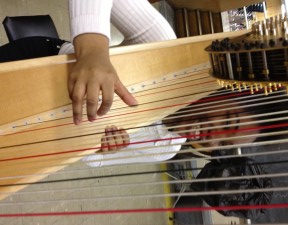 In a partnership created by Director Elizabeth Hainen, the Curtis Institute of Music Harp Studio and Lyra Society will begin teaching harp lessons for students of both schools, fulfilling the original strategy for GLISSANDO! Four students at each school will receive weekly private lessons with GLISSANDO Teaching Artists.
Saratoga Harp Colony Legacy to Continue at Curtis: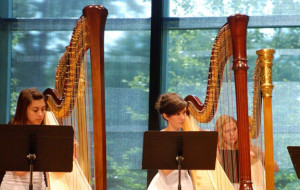 After 11 years of the Saratoga Harp Colony residing in Saratoga Springs, NY, the Curtis Institute of Music will now present the new Elizabeth Hainen Harp Colony, continuing a rich tradition that dates back to celebrated harpist Carlos Salzedo, founder of the Curtis Harp studio in 1924.
Along with exceptionally gifted harpists the Elizabeth Hainen Harp Colony will invite students from
Lyra's GLISSANDO! Harp Program and other urban music programs to participate as Jr. colonists.
March 24, 2015
Lyra Society featured in the Philadelphia Inquirer!
"Gerald Kolpan's new project lets nonprofits smile for the camera"

2011 Costello Award Recipient Michael Djupstrom receives Pew Fellowship
Congratulations to Michael Djupstrom who is the recipient of a 2014 Pew Fellowship from the Pew Center for Arts & Heritage, a multidisciplinary grantmaker dedicated to stimulating a vibrant cultural community in the greater Philadelphia region. Read more about him and the award here.
GLISSANDO program graduates are now successful college freshmen!
2014 graduate Michael Leggerie, former student of Maryanne Meyer at Girard Academic Music Program is now a freshman at San Diego State University, studying as a double major in Mathematics and Music Composition. Michael says describes how Lyra helped prepare him for college:
"Lyra allowed me to expand my versatility as a musician by teaching me how to play a beautiful instrument that I wouldn't have had access to without being in the GLISSANDO program. Lyra helped teach me diligence and patience in building technique that is essential in mastering harp and applies universally to every instrument I play."
Azhane Morris, former student of Elizabeth Steiner at Philadelphia High School for Girls, is now a freshman at Penn State University.