GLISSANDO!
GLISSANDO! is the educational program of the Lyra Society. Established in 2007 by Elizabeth Hainen, the Principal Harpist of the Philadelphia Orchestra, the GLISSANDO! program provides harps and lessons to students in Philadelphia Schools. Since its establishment, GLISSANDO! has reached over 2000 young people throughout Philadelphia through multiple educational in-school presentations and has provided three new concert grand harps and two lever harps in schools for daily student use. Glissando currently provides weekly lessons to 30 young harp students across Central High School, Girard Academic Music Program, Kearny School, Julia R. Masterman School, and the Philadelphia High School for Girls.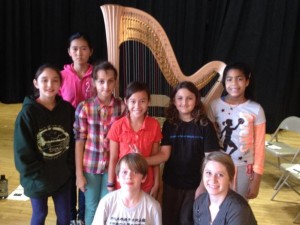 Program Benefits:
Weekly Lessons
All students receive weekly lessons throughout the school year at no charge from the community's finest harp instructors, alumni of major music conservatories.
Access to Instruments and Materials
Glissando provides access to concert grand pedal harps for daily practice and lessons. In addition, Glissando provides all needed accessories such as benches, tuning keys, strings, and sheet music for student use.
Performance Opportunities
Students have the opportunity to perform in Lyra's Annual Gala at the Curtis of Institute of Music, Temple Music Prep's Harp Ensemble concert, and in other community concerts throughout the year.